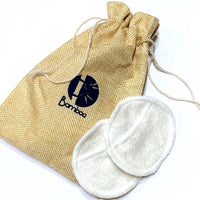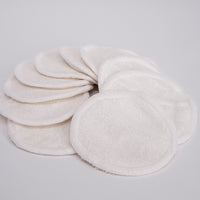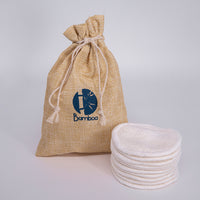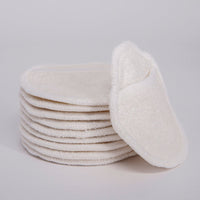 Reusable Bamboo Make Up Remover Pack of 10
Bamboo Make Up Remover pads are as soft as silk and the perfect choice to use on our delicate skin. 
The pads have a little fold to put your fingers for easy use. They are reusable meaning you can just add them to your laundry and wash them. You can either use the supplied linen bag to put them in before the wash cycle or pop them in the net bag which you use to wash delicate underwear and bras. 
They come as a set of 10 pads, packed in a linen bag. Both are 100% biodegradable. 
It takes a big leap to reverse our sad climate crisis, yet every little step helps. 
Join us on our mission to protect our beautiful planet! ❣️🙏
 Our 100% bamboo fiber reusable make-up remover pads are the best alternative to any other e.g wipes or cotton pads. Heres's why:
The unfriendly make-up removers to avoid are: 
1. Wipes are generally made from a combination of things such as polyester, polypropylene (basically plastic) and more natural materials cotton, wood pulp, and rayon fibers, makes them sadly not biodegradable due to the polyester and polypropylene. 
2. Cotton pads are single use, not reusable and derived from cotton. Cotton unless certified as organic cotton is sadly not a sustainable nor environmentally friendly crop, which requires gallons of water and pesticides. 
Cotton is mostly grown in monoculture and is a very pesticide-intensive crop. Although it is only grown on 2.5% of the world's agricultural land, it consumes 16% of all the insecticides and 6,8% of all herbicides used worldwide.
Sizes 

Standardised size for each make up pads at 8cm. 
Care Instructions
Hand wash with mild soap or you can also place them in a washing bag for machine wash at 40'c degrees maximum.