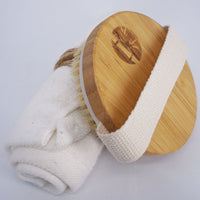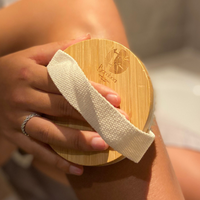 Bamboo Dry Brushing Body Brush
The ideal Bamboo Massage Brush for your dry brushing routine!
Our bamboo dry brushing body brush is perfectly shaped for your hand to perform your dry brushing routine. The body brush is also designed with silicon nodules, that massage and stimulate the muscles, skin and lymphatic system.
It's a great routine to start your day before your morning shower. Always stroke and brush upwards or towards your heart. 
Promotes blood circulation

 Fights cellulite

 Exfoliates dry skin

 Reduces wrinkles

 Firms the skin

 Removes toxins (through lymphatic stimulation)
Materials
Bamboo and boar bristles with organic cotton strap