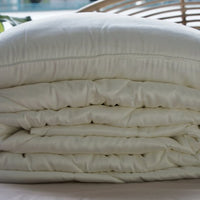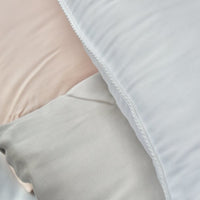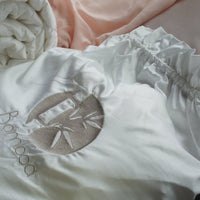 Bamboo Quilt/Duvet - Bamboo Inside & Out Collection
Our all-season duvet with 100% bamboo fiber filling and an outer casing is a premium bedding product that offers a luxurious sleeping experience.
Bamboo is a sustainable and eco-friendly material that is known for its softness, durability, and breathability.
The bamboo fiber filling provides excellent insulation while also wicking away moisture, keeping you cool and comfortable throughout the night.
The outer casing of the duvet is also made of bamboo fabric, which is hypoallergenic and naturally resistant to dust mites and other allergens.
The bamboo fabric is also incredibly soft and silky to the touch, providing a comfortable and cozy sleeping environment.
The duvet is designed to be lightweight and breathable, allowing you to stay warm without feeling weighed down. 
Overall, a duvet with 100% bamboo fiber filling and an outer casing is an excellent choice for anyone who values comfort, quality, and sustainability in their bedding products.
The collection (duvet and pillows) – filling and outer shell, are the best alternative, being 100% sustainable bamboo and vegan-friendly.  
Bamboo Inside and Out Duvet is the perfect match with our Silky Bliss Duvet Sheet Set! 
What are the advantages of bamboo fiber?
Sustainable resource
Extremely soft and silky texture
Highly absorbent (3 x more than cotton) and breathable
Hypoallergenic (perfect for sensitive skin)
Dust mite resistant
Naturally Anti-bacterial and Odour Resistant, they stay fresh longer
Biodegradable textile material
Vegan friendly
Care Instructions
All our products are pre-washed (no need to wash for the first time)
Dry clean is the best method. Can machine wash also on 30 degrees C. 
Do not use dryer 
Size Chart