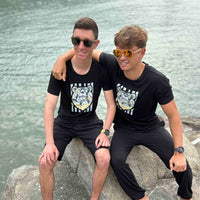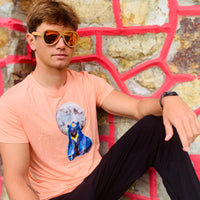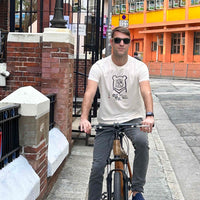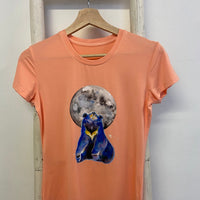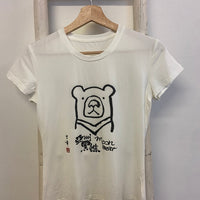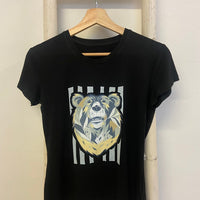 Men's Moon Bear Bamboo T-shirt
Bamboa proudly presents this wonderful collection of Moon Bear t-shirts. Your support by purchasing one of these limited edition t-shirts helps save the Moon Bears in Vietnam through the Animals Asia Foundation *. 
The Asiatic Moon bear has one of the most distinctive markings of all ursine species and the connotation that it has a kinship with the moon gives the animal a mythological symbolism which makes it a delight to paint. The species was once found across all of Asia and it is optimistic to think that in the same way in which we share one moon, that in some way we also share an ancestral connection with this striking animal.
Sadly, the Moon Bear is often used for its bile in traditional medicines and through this art and the t-shirt we hope to raise some awareness as to the sad realities that this species faces on a daily basis
We have invited local artists to create their own Moon Bear designs in three different artistic categories being
WATER COLOUR by our artist Marc Allante – this is a beautiful water colour artwork of a bear with a full moon in the background (more about the artists below)
URBAN by our artist Takamitsu Takagaito – Taka, a talented Japanese graffiti artist shows the bear in the front of the bars, NOT behind of the bars anymore; thus the bear is FREE!
CALLIGRAPHY by our artist Thomas Lam, has created a fun cartoon of a bear with the Chinese characters for the Moon Bear.
More about the artists:
1. Hong Kong born artist Marc Allante exhibited a passion for the visual arts from an early age. Having lived in Hong Kong, Sydney and London, his work is inspired in both form and style by these western and eastern influences. Merging traditional Chinese inks with European painting techniques in a contemporary style reflects the fusion of his Chinese – French ancestry and brings it into a modern context. Self-taught, Marc utilizes a variety of techniques, subject matter and themes to expand the repertoire of his artworks. As an advocate of environmental and conservation charities, his work currently focuses on wildlife, hoping to preserve and bring awareness to the inherent beauty in nature, and its increasing fragility. He has worked with a variety of global corporate clients including Samsung, Perrier, Bremont, L'Oreal amongst others and has been featured in the Huffington Post, The Independent, South China Morning Post and other local and international press.
2. Taka is a Japanese artist currently based in Hong Kong.He won the Hong Kong Vans Asia Custom Culture Competition (2017), and emerged as a Finalist in the Secret Walls x Hong Kong series 4 (2016). He has painted for multiple international street art festivals, including: HKwalls in Hong Kong, Meeting of Styles in Manila, and the United Kingdom's Upfest in Bristol. He has exhibited in Paris, France with Galerie Sakura.
3. Thomas  Lam, aka Writelikedance , has dedicated his career in Chinese Calligraphy for more than 15 years. He would like to introduce this traditional Chinese culture in a modern and stylish way.
He advocates styles of calligraphy studies namely LiShu, KaiShu art which is the standard script. Enriched with his personal insights and characters. He not only focuses in writing Chinese calligraphy, but also launched calligraphy classes and collaborates with tattoo artists for tattoo-design with Chinese paint brush element.
 ANIMALS ASIA FOUNDATION
Animals Asia is a global animal welfare charity working to protect bears, cats and dogs across Asia. Animals Asia has the mission to free all moon bears in Vietnam and they are currently building a sanctuary in Vietnam to protect moon bears and to give them a loving safe home.
Check out the account below:
@animalsasia
Size